There are many elements to getting married on the beach.  The comfort of your guests is a big one.
Check out some fun must-haves for a beach wedding.
A Shoe Check
Most people enjoy having the sand between their toes but it does come with some discomfort.  Provide a table or basket for them to leave their shoes.  You can also provide some cheap thongs in case the sand it very hot.  And make cleaning off their sandy feet easy by setting up a bucket with brushes, a lavender scented tray of water to walk through and small towels to dry off.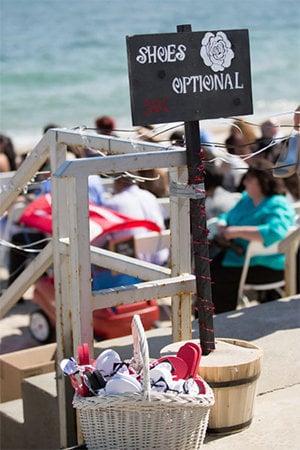 Foot Jewellery
Walking down a sandy aisle in heels is not ideal but if you don't want to go totally barefoot, dress up with pretty jewels or lace.
Toys for the Kids
Beach toys and all the sand around will keep the kids entertained.
Beach Balls
Mini Beach Balls are great fun to throw at the happy couple instead of confetti or bubbles.
Pretty Parasols
Parasols that match your colours will give some shade for you guests and look great in your photos.
Ocean Details
Be inspired by your Beach surroundings for your theme ~ from your stationery to your table, chair and aisle styling.  Starfish or shell details are cheap and easy.
Want to see more of our Beach Weddings?